Max and Kathy Whitley have been full-time craftsmen for over thirty years. They work out of their studio in the countryside of eastern North Carolina, near Pink Hill. They consider it a privilege to be able to make a living at something they both enjoy. They spend countless hours in their studio creating one-of-a-kind items. Much like skilled masters of the past, they travel to Arts and Crafts festivals in North Carolina, South Carolina, Virginia and West Virginia. All this time, customers from all over the world are anxious to add to their own collections with these beautifull utilitarian works of art.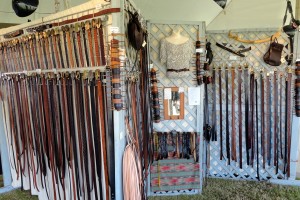 Max makes superb quality belts and bags of the finest leather available. He takes pride in starting from the unfinished cowhide to cut each belt. Many meticulous steps are enacted using various materials to reshape the surfaces of his belts. Over a period of weeks, Max hammers on countless impressions of naturally occurring patterns and colors. Every unique detail is polished and custom fit upon purchase. Max collects solid brass buckles to complete the belts. All of his straps allow the interchangeability of buckles. The bags he makes are either wet-formed and cobbled with brass nails or hand-stitched for a very durable and beautiful product.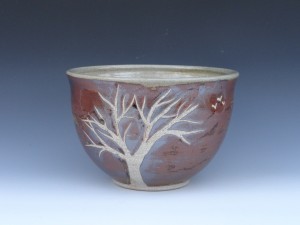 Kathy makes pots out of stoneware clay on a potters wheel. After each pot is shaped by hand, it is individually decorated and glazed using original glazes before it is fired in a gas kiln. Firing in a gas kiln produces an atmosphere that enhances the pottery to give it rich, warm, earthy colors. Decorations on each pot are achieved by carving, etching, painting, and piercing the clay. The pots are then fired to 2400 degrees F. They are lead free and can be used in the oven, microwave and dishwasher. Some of the items she makes include lamps, teapots, mugs, bowls, spoon rests, vases, ikebana vases, and wheel-thrown ornaments.
Both Max and Kathy make items to be used and enjoyed in everyday life. It is a good feeling to wear a hand made belt that looks and feels great and lasts a long time. It is also a good feeling to drink coffee from a beautiful handmade mug that is like no other. They both enjoy beautiful handmade things and want to keep the traditions alive.